Lit Mag Spotlight: Booth
by
Treehouse Editors
Our free Literary Loot Contest for Unusual Prose is accepting entries right now, with a sweet prize supplied by a collaboration of literary magazines, journals, and indie presses:
A Strange Object   •   Barrelhouse   •   Booth   •   Carolina Quarterly   •   Dzanc Books   •   Ecotone   •   Gigantic   •   Gulf Coast   •   Mud Luscious Press   •   PANK Magazine   •   REAL: Regarding Arts and Letters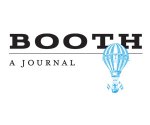 Robert Stapleton shares his favorite comic narrative and tells us a bit about Booth, a shape-shifting journal for the future that remains dedicated to classic and contemporary forms of writing since it began at Butler University in 2009.
Q: How would you describe the aesthetic of your magazine to someone who might be interested in reading?
A: Booth embraces great storytelling, distinctive voices, both classic and inventive forms, gravity + comedy, grim reapers and grand weepers, monsters with or without mud-stained Wiffle bats, characters crossing state lines in plateless El Caminos, and anything carried by a rich sense of tension and heart.
Q: What do you think makes Booth distinct from other literary journals?
A: Booth pushes the boundaries of form. We love both classic and contemporary aesthetics. Both of our publishing platforms, print and online, are dynamic and unique. Online, we present one new piece every Friday, fifty weeks a year. Our print issues are consistently reinvented and refired with different sizes, templates, and tenors. Each is an homage, in its own funky way, to the history of literary publishing.
Q: What are some of your favorite journals to read?
A: The ones we look up to and try to emulate include Hobart, Salt Hill, PANK, The Normal School, Ghost Town, Fence, Midwestern Gothic, Gulf Coast. There's so many more…
Q: What brought you into editing? How is it different from writing or has it changed your own writing?
A: I love literary magazines and consider them artifacts, offerings, paper sculptures. So when we started an MFA program at Butler, I was thrilled for the opportunity to create with our students a publishing project and curriculum.
Q: I noticed some pretty sweet artwork on your print issues. Where do you meet your artists? Any stories behind the graphics?
A: I harness no visual knowledge or skills. But I love graphic design and graphic novels. I curate the art by simply shopping in the right places online and contacting artists. Then I deliver everything to Katie Orlowski, a terrific artist and designer employed by the university. She makes everything happen. We'd be mud without her.
Q: On your site you have a submission category for comic narratives. Do you have a recent favorite? Will you link us to it?
A: One of my favorites, now and forever, is Nick St. John's "How I Came to Work at the Wendy's." Read it and weep.
Q: How do you get the word out to readers about Booth and how has that changed since 2009?
A: Do great work, champion details, be kind to others, take nothing for granted. That hasn't changed, nor will it.
Q: Where are the general locations of most of the writers that submit to Booth?
A: According to Google Analytics, Indiana, California, and New York. Outside of the US, England, Canada, and India.
Q: What are your hopes for the future of your literary journal?
A: Yes.